Shige and Massu were on this show 08.24 (Monday) promoting 24 hour television.
But now the show lists we're also getting Koyama, Shige & Massu as guests on 08.28 (Friday)! It will be a 24 hour television promotion special. The show is collecting questions to be asked to Friday's guest on
the official website
so send something in if you have any good ideas! (Japanese language only)
SURPRISE is a show that airs Monday through Friday every evening from 7 to 8 PM on NTV.
Its not 100% Occurate i'm still learning Japanese so just to let you know
a bit what they are talking about Newshfan will probably sub this too.
But ahh well I was bored.
Here it is
MF
Download the raw over here
Here
X-posted at
news_jpop
Just the translation of the clip from 24hrtv with Ryo and Yamapi!
Current Mood:

bored
Pi in water
Shige with globe
Koyama with handsign
Tegoshi with Imoto
No ryo here because he has enough XD Gomenasai (>_<)
All HQ besides Tegoshis
Shige has a weird screencap, you cheer me up shige. haha
Preview sizes, the HQ ones are for
dwwnld
All 90+ screencaps.
Ended with Tegoshi's incredible pom pom hair
( Massu is first )
Massu in water


NEWS 出演 「24時間テレビ」まもなく番組協力受付開始!!

 ★メールにて8月13日(木)より準備が出来次第申込登録開始!

 収録日 : 8月29日(土)・30日(日)※渋谷@JFCでの事前引換えあり

 収録場所: 東京

 集合・終了時間:未定 ※詳しい集合時間は当選者にお知らせ

 申込資格: 1組4名まで

※8月22日(土)~8月24日(月)に渋谷@JFCでの引換え参加必須。
※キャンセル待ち繰上げ当選者は、8月28日(金)に渋谷@JFCでの引換え参加必須。


◎番組協力についての問合せ: 0570-033-366 (平日11:00~18:00)

  \(^▽^) 沢山の方のご応募を、お待ちしております!! (^▽^)/

X-posted to newsjpop
Hi, I got an email from You & J recently and I was wondering if anybody knows exactly how this works?
Current Mood:

curious
news_jpop
and I really wanted a clearer version of the poster...
so I was bored enough to edit it with my photoshop imitation program (arcsoft's photoimpression 4 if you're curious) + MS paint xD
(
look at the pretty posterrr
Collapse
)
I saw this post on
Information in Japanese is here:
http://www.ntv.co.jp/24h/contents/kanran_oubo.html
Info in English:
All balloting is to be made via postcards, for things you need to fill in postcard - please see the site.
One person can ballot for 1 day only, so please choose 29 or 30 when you ballot.
1 postcard can be used for 2 people only.
Deadline for postcards is 7/24. Results will be sent by postcards to the people who were chosen only.
For people living in Japan, or if you can use japanese address - you can ballot anyway.
She's going to run 3-times marathon length - 126.533 km.
Upd: There's download link in the comments - please thank
nanchant
for it <3
It's Imouto Ayako :) Yes, the ItteQ Imouto :)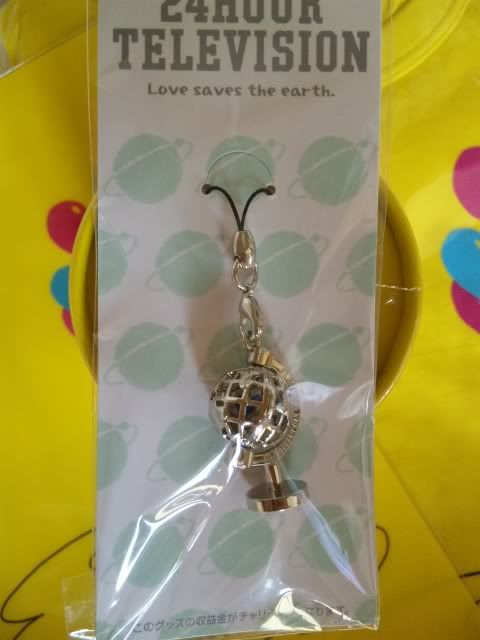 (photo credits: XQ)
If you're in TOKYO:
Two of several stores selling 24Hour TV merchandise:
Tokyo Station: Chiyoda-ku Marunouchi
1-9-1 Tokyo Eki Ichiban B1F
NTV Tower: Minato-ku Higashi Shinbashi
1-6-1 NTV (Nitere) Tower B1F/B2F
All the goodies went on sale this weekend at designated stores. I'm actually surprised at how reasonably priced everything is...T-shirts are only 1500¥. All the proceeds go to a worthy cause. (right click for larger images)
世界の果てまでイッテQ!
2009/07/05 19:58 ~ 2009/07/05 20:54 (日本テレビ)
地上デジタル(4)
バラエティ・芸能
Gコード 99090495
緊急生放送…今夜発表24時間テレビマラソンランナー
▽珍獣イモト無謀パイロット挑戦▽宮川に最大試練…驚異の棒幅跳び祭り 内村光良 オセロ 手越祐也 ベッキー 宮川大輔
(Source:
here
)
Rough translation by
chibi_news
:
The beginning is just information about the show (like the channel it's on and time and stuff)
Then i think it says they'll be announcing the 24 hour TV marathon runner.
Then it says what imoto and miyagawa will be doing on the show, and Tegoshi's just mentioned because he's on the show. . i think thats all.

Tomorrow the runner for 24hr TV Marathon will be announced.